Sunderban Tiger Camp, Sunderbans
---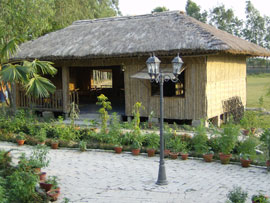 The Sunderban Tiger Camp is the best tiger resort in the Sunderbans area and is set amidst a sprawling 15 acres of forestland just opposite Sajnekhali Tiger Reserve Forest. It is certified by TOFT as a quality accommodation in Sundarbans National Park, the Tiger Camp also retains the local culture and charm. The air- conditioned cottages are furnished with private western style facilities, modern amenities and large verandahs. The décor is locally sourced and mostly eco-friendly. In addition to wildlife viewing boat rides, another activity available here is angling. In the premises are restaurant, The Fisherman's Wharf, serving a selection of local and international cuisine and a Gol Ghar bar for a relaxing sundowner, a Library, a Pool table, etc.
Hotel address and contact details
Dayapur, P.S. Gosaba
24 Parganas (South)
State : West Bengal


Accommodation
Accommodation includes 21 uniquely crafted rooms. The rooms have attached bathroom with running hot and cold water and other amenities. Inspired from the local culture as well as the blessings of nature, each of the lodgings have unique architecture and décor.
Facilities and Services
The facilities are Pool table, Restaurant, bar, library, Tiger Shop, natural bird watching, boat safaris, etc.