The Bagh, Bharatpur
---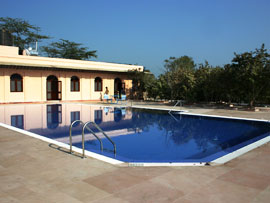 The Bagh is a heritage hotel set in 12 acres of beautiful gardens, very close to the Bharatpur Bird sanctuary. The hotel's thirty eight rooms are located in three different residential complexes. A restaurant, banquet hall, coffee shop, library and a gym, all situated in a verdant orchard, allow guests to enjoy solitude and companionship in restful indoor and outdoor spaces.
Each of the Bagh's thirty eight rooms is unique named after flowers that grow in abundance at the resort. Spacious bathrooms, luxurious fabrics, fine furnishings and all modern day amenities, let the weary traveler retreat and recoup after a day of sightseeing and bird watching. Gulmohar, the main restaurant, specializes in the wonderful vegetarian cuisine of the Braj region created from the organic farms that supply fresh produce. While Morchalli and Mahua- independent bars and Mayur- lounge are the perfect retreat for a relaxing end of the day.
With over fifty species of flora, including fruiting trees and flowering plants which attract birds, small animals and insects, guests can enjoy quiet walks in the garden and commune with nature. The handsome buildings made in local stones are designed to merge with their natural surroundings. Works by contemporary Indian women artists are displayed throughout the complex. A stroll through the Bagh's garden and buildings leads a visitor through the realms of nature and art.
Hotel address and contact details
The Bagh
Agra-Achera Road, Bharatpur - 321001
Rajasthan, India
Accommodation
The Bagh has 38 rooms in four categories, named after flowers that grow in abundance at the resort. The room have names such as Anar, Champa, Mogra, Gulab, Surkhab, etc. Each of the accommodation are equipped with spacious bathrooms and other modern day amenities. Décor include luxurious fabrics, fine furnishings designed for comfort and intimacy.
Facilities and Services
Swimming pool, Bar and restaurant, Nature walk into the bird sanctuary, rickshaw ride, workspace, etc.