Coconut Lagoon, Kumarakom
---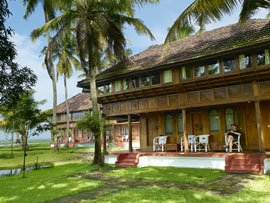 Hidden among the palm trees on the Eastern Shore of Lake Vembanad, Kerala's famous backwaters, Coconut Lagoon is one of Southern India's most discreet holiday destinations, an exclusive haven with a unique cultural heritage. The resort can only be reached by boat and offers a fascinating insight into the past. Guests stay in genuine 'tarawad' cottages - traditional wooden family houses. In danger of being destroyed, each one has been brought here from different parts of Kerala and carefully reassembled to include every modern luxury. Coconut Lagoon's cottages feature ultramodern bathrooms, each located in an inner courtyard boasting its own banana tree.
It's a stunning combination: conservation mixed with comfort, tradition with tranquility. The Coconut Lagoon Resort has been designed to give visitors an authentic insight into Kuttanad life. The hotel offers excellent facilities like Indian, continental and sea food specialty restaurant, coffee shop, bar, Ayurvedic massage, yoga and meditation, country boat expeditions, visit to bird sanctuary, 'Rice boat' cruises, fishing, swimming, Ayurvedic center, swimming pool, health club, fishing expeditions. The restaurant at Coconut Lagoon is renowned as much for its superb Kerala cuisine (vegetarian and non - vegetarian alike) as for its authentic setting and is housed in one of the resort's most impressive tharawads.
Hotel address and contact details
P. Box No 2, Kumarakom
City : Kottayam
PinCode : 686 563
State : Kerala


Accommodation
You can choose from three kinds of 50 rooms accommodation at Coconut lagoon. The Heritage Bungalows are compact independent cottages, set in lush lawns along the canals.
The Heritage Mansions are larger, with an upper story defined by distinctive wooden ribs that resemble the sides of a boat. Most of these afford fine views of the lake.
Beyond, on their own quiet section of lake front, are the Pool Villas. Peace and privacy combine here, with private pools, distinctive interiors and even your own little hammock, tied up front.
Facilities and Services
Multi cuisine restaurant (Buffet breakfast, lunch, dinner), Theyam - Bar, Swimming pool, Regular doctors on call, Ayurveda centre, recreation centre, Sunset cruise, Back water cruise, Farm visit.
Kumarakom Lake Resort, Kumarakom
---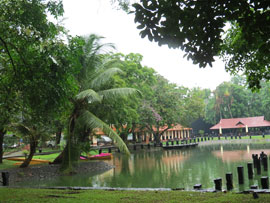 Kumarakom Lake Resort is the finest luxury heritage resort in India. Nestled on the serene banks of the Vembanad, the vast stretch of tranquil, emerald green backwaters, in one of India's hottest holiday spots, Kerala. Sprawling across 25 acres of lush greenery, set in soul-stirring ambience, Kumarakom Lake Resort exudes the charm of Kerala's true heritage. The villas and suites of the resort are a careful reconstruction of manas, the 16th century traditional homesteads of God's Own Country. Most of them have been transplanted from their original locations across the State and reassembled painstakingly by hand, plank by plank, tile by tile.
Kumarakom Lake Resort offers a complete range of New Age amenities for a luxuriously comfortable stay. Luxury-laden villas and suites; Ayurmana , the Ayurveda Spa ; Swimming Pool; Meditation Centre ; Health Club; Multi-cuisine restaurants; Traditional Kerala teashop and countless other attractions in and around the resort offer the highest standards in luxury accommodation and facilities.
Hotel address and contact details
Back Water, Kumarakom North P.O.
City : Kottayam
PinCode : 686 566
State : Kerala


Accommodation
The 50 villas and suites at the Resort are a perfect blend of Kerala's traditional architectural charm and luxurious, modern amenities.
Facilities and Services
Water sports, 250 mtr. long meandering pool, Air-conditioned health club, Billiards club, Ayurvedic centre, Game fishing, Backwater cruises, etc.
Taj Kumarakom Resort & Spa
---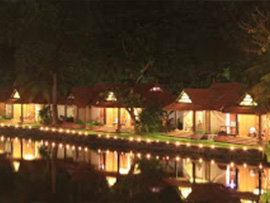 A part of history and a unique experience, the Taj Kumarakom Resort & Spa is among the best places to stay in the backwater town of Kumarakom. With only 28 exclusive villas or cottages, the Taj resort is set amidst almost 15 acres of natural greenery.
Dating back to 1881 when the Baker's family, the founders of modern Kumarakom set up their residence here, the original bungalow still stands gracefully on the shore of the beautiful lagoon. The sprawling grounds are dotted with century-old trees, water bodies and the Kumarakom bird sanctuary-home to millions of birds and multitude of species.
The colonial charms are retained in the resort, in its layout, artefacts, and décor. The cuisine is a generous mix of Taj signature dishes, comfort food and location inspired farm and backwaters cuisine. Adhering to the traditions of Kerala- the origin of Ayurveda and the class of the Taj, the Jiva Spa pampers with secrets of wellness. Houseboat cruises, bird-watching excursions and more add to the memorable experience of stay the luxury Kumarakom Resort.
Hotel address and contact details
1/404, Kavanattinkara,
Kumarakom, Kerala 686566
Accommodation
Accommodation at the Taj luxury Kumarakom Resort are crafted in accordance of its serene setting. In fact, accommodation here is a perfect example of living in harmony with nature without compromising on comfort and modern-day conveniences. The four breath-taking accommodations, each offer a picturesque views and the standard amenities of the Taj.
Facilities and Services
Swimming pool, garden, Free WiFi, Spa and wellness centre, Outdoor pool, Bar, Houseboat rides, village visit, bird-watching excursions, boating, etc.