4 Days Mysore and Nagarhole Tour
Tour Duration

Places Covered
This 4-day tour covers the royal city of Mysore and Nagarhole- famed as South India's best Tiger Reserve. The tour starts from Bangalore, the capital city of Karnataka. Visit Mysore, well-known for its royal palaces, gardens, and culture. The Nagarhole Tiger Reserve has read more...
All about 4 days mysore and nagarhole tour
This 4-day tour covers the royal city of Mysore and Nagarhole- famed as South India's best Tiger Reserve. The tour starts from Bangalore, the capital city of Karnataka. Visit Mysore, well-known for its royal palaces, gardens, and culture. The Nagarhole Tiger Reserve has a high population of tigers and elephants, in addition to the diverse wildlife that assures an amazing opportunity of wildlife viewing.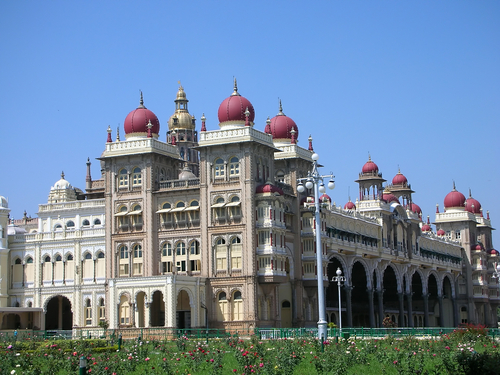 Day 1

Bangalore - Mysore

Arrive at the Bangalore International Airport. Upon clearing Customs and Immigration, you are met by our representative who will present you with a welcome pack including all necessary documentation and drive straight to Mysore (140/3 hrs). Mysore: The city is a legacy of the famous warrior king Tipu Sultan, known for his victories over the Imperial British Armies. The city is also known for its silk processing and is a major center for nurturing silkworms. Also known as the "City of Palaces", the hill town in southwest India is cooler than the coastal cities. The pleasant weather is one of the reasons so many maharajahs chose to live here and given 17 palaces to this city. It still retains its old charm and many buildings are adorned with domes, turrets and impressive archways. Also known as "Sandalwood City", it is a major center for the manufacture of incense. Hence, Mysore is more than palaces, parks, and temples, it has a reputation for traditional carvings on fragrant sandalwood, the rustle of rich silks, mouthwatering Mysore Pak, a traditional sweetmeat. besides its cultural and historical legcay, it is a gourmet's delight and a shopper's paradise. Upon arrival check-in to the Windflower Spa & Resort Overnight at the Windflower Spa & Resort

Day 2

Mysore - Nagarhole

This morning you are collected from your hotel for half-day sightseeing tour of Mysore. This tour includes a visit to The Mysore Palace. Built in 1912 in the Indo Saracenic style, former residence of the Wodeyars, this palace is one of the largest of its kind in India. The Jaganmohan Palace - this is a converted art gallery that houses paintings that date back to the late 19th century. Chamundi Hill: Perched atop a hill is the 12th-century temple of Chamundershwari. The gigantic 4.8-meter tall monolith of Nandi the sacred vehicle of Lord Shiva is a marvel to watch. Also close to the temple stands a gigantic statue of the demon Mahishasura. St. Philomena's Church: This beautiful Cathedral was built in 1956 and is one of the largest churches in the country. It has been built in the Gothic style with beautiful stain glass windows and lofty towers. Your sightseeing tour is followed by a drive to Nagarhole (80 kms/02 hrs). Nagarhole/Kabini: The Nagarahole National Park, 644 sq km in size, is situated in the southern Indian state of Karnataka. It encompasses the area where the Western Ghats integrate with the Deccan Plateau. It is flanked by the Bandipur National Park to the south-east and the Wynad Wildlife Sanctuary to the south-west. Together with these parks, it forms part of the larger Nilgiri Biosphere Reserve, which has a total area of 5500 sq km. Nagarahole has an elevation between 700 m and 960 m with the Masal Betta peak being the highest point and the Kabini River being the lowest. The Brahmagiri hill range provides a backdrop to the park and the park has gently undulating terrain crisscrossed by many rivers and streams. The Kabini River is the major river draining the park with the Nagarahole River lending its name to the park. Nagarahole was accorded the status of a National Park in 1983. The Nagarahole ecosystem supports the highest density of herbivores anywhere in south-east Asia. Large herbivores in Nagarahole are Muntjak, Chital, Sambar, Four-horned Antelope, Gaur, Wild pig, Asian Elephant, Common Langur and the Bonnet Macaque. The density of herbivores in Nagarhole rivals that of the Masai Mara in Africa when taken on a per sq kilometer basis. Because the availability of prey is not a limiting resource in Nagarahole, selective predation has facilitated large carnivore co-existence in the park and the predominant larege predators here are Tigers, Leopards and Wild Dogs. The principal reasons for large carnivore coexistence in Nagarahole vis-à-vis the African Savanna are ecological factors such as adequate availability of appropriate sized prey, dense cover and tree density which is absent in the African Savanna and the fact that behavioral factors such as habitat specificity, choice of hunting sites or inter-specific dominance play a relatively minor role in Nagarahole. It is this large presence of Mammals, coupled with a varied and extremely scenic landscape comprising hills, rivers and water beds that make Nagarhole and Kabini a must-do for serious wildlife enthusiasts. Upon arrival check-in to The Serai Kabini. The Serai Kabini: The Serai is strategically located on the banks of the magnificent Kabini River and serves as a wonderful gallery for viewing wildlife. Inspired by a vision of operating world-class wildlife resorts near key wildlife sanctuaries in India, The Serai offers tastefully-decorated rooms with all the modern amenities. Each room looks out into the expansive river and is appointed with every little indulgence you would normally expect on a premium vacation. Other facilities at The Serai include a swimming pool, an activity/information centre, a restaurant serving vegetarian and non-vegetarian buffets, a gym, a small Spa and a well-stocked bar. Overnight in Nagarhole/ Kabini.

Day 3

In Nagarhole

Early morning & evening safaris in Nagarhole National Park. Safaris in Nagarhole are organized in jeeps. Local guides and naturalists are at hand to enhance the experience. Overnight in Nagarhole/ Kabini.

Day 4

Nagarhole - Bangalore Depart

Morning game safari in Nagarhole National Park. Check out of your hotel at noon and leisurely drive to Bangalore airport (230 kms/05 hrs) in time to board flight home.
Price
Start from: USD 882 Per Person
---
Accommodation
| Cities | Accommodations |
| --- | --- |
| | Windflower Resort and Spa |
| | |
Important Information
Small supplements may apply for travel between 20th December' and 05th January'.
The figure quoted above is net per person in US Dollars.
The tour package inclusions and exclusions at a glance
Whats included in this tour
Items that are covered in the cost of tour price.
Accommodation on twin sharing bed and breakfast basis in Mysore and Full Board Basis (including all meals) in Nagarhole.
All arrival-departure transfers and land transportation using an aircon car exactly as per the itinerary.
Sightseeing tour / game rides along with an English Speaking Guide / Naturalist and including entrance fee to monuments / park exactly as mentioned in the Itinerary.