Spice Village Resort, Periyar
---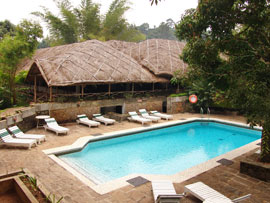 Built on the periphery of a 777 sq. km. Periyar Wildlife Sanctuary, Spice Village Resort is an option of luxury wildlife tour. The Periyar National Park is home to nomadic tribes of wild elephant, boar, deer, bear, the great Indian tiger and more. Set in the heart of the Cardamom Hills of Kerala, Spice Village is an unprecedented tourist destination, offering a rare opportunity to view and experience South India's wildlife and beauty. Spice Village is in Kumily, a small settlement three kilometers from Thekkady, the main entrance to the Periyar Tiger Reserve and a 10 minute drive from the gigantic man-made Periyar Lake.
The design of each cottage was inspired by the native tribesmen of Periyar, the Oorali and Mannan, who lived in similar dwellings. (In fact, one of the cottages currently being used as an office is an original tribal hut, which has been modified.) A number of modern comforts have been added, however, to make your stay a luxurious one. Cottages with thatched roofs blend well with the surrounding greenery of the pepper vines. At the center of the village is a swimming pool, surrounded by tropical trees and lawns. The community hut houses a well-stocked bar and a unique restaurant that overlooks the pool. Spice Village has an exclusive Ayurvedic clinic, well equipped for treatments like Pizhichil, Njavarakizhy, Dhara and other natural therapies. At the Spice Village there's no lack of options on how you can get the best out of your holiday. Boat safaris, Jungle treks, Plantation visit and more, the possibilities are endless.
Hotel address and contact details
Periyar Road, Kumily
Thekkady - 685 536
Kerala (India)


Accommodation
Spice Village Resort offers 52 cottages built in 8 acres of famed forest. Spacious and comfortable with fine wood décor and beautiful natural fabrics, with the Elephant grass thatched roof and all modern facilities. Well equipped with international direct dial facility, mini-bar, and, Tea /Coffee kettle.
Facilities and Services
An outdoor Swimming Pool, a children's pool, Spa, Tennis, Bar / Lounge, multi cuisine restaurant, Ayurveda facilities, Yoga and Meditation, etc.