Backwaters, Elephants and Tigers
Tour Duration

Places Covered

Cochin(1) > Kumarakom(1) > Periyar(2) > Mysore(1) > Nagarhole(3)
A nine day South India tour, covering two of Southern India's best known National Parks - Periyar, famous for its large Elephant population, and Nagarhole, famed as South India's best Tiger Reserve. This South India tour, also includes the harbor city of Cochin, the bac read more...
All about backwaters, elephants and tigers
A nine day South India tour, covering two of Southern India's best known National Parks - Periyar, famous for its large Elephant population, and Nagarhole, famed as South India's best Tiger Reserve. This South India tour, also includes the harbor city of Cochin, the backwater resort destination Kumarakom, including a visit to the Kumarakom Bird Sanctuary, and the city of Palaces, Mysore.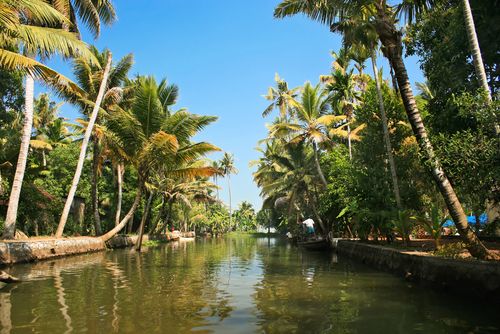 Day 1

Arrive Cochin

Arrive at Cochin airport. Cochin - Cochin means harbour and even before the building of Ancient Rome, spices, silks, ivory and sandalwood were traded here. Cochin proudly boasts a rich cultural heritage but is also one of the most fast-paced and modern cities in India. It is also one of the finest natural harbors of the world and a major Indian port. It is its charm and a relatively good infrastructure that make it the ideal gateway to the state. This has been the case since 1341, the year nature carved out Cochin's harbor with a massive flood. As a result, Cochin became the first port of call for Arabs and came to be known as the "Queen of the Arabian Sea." This city offers visitors Forts, palaces, museums, old churches, cool backwaters, palm-fringed lagoons, beaches and the practicality of a contemporary metro. Upon clearing Customs and Immigration, you are met by our representative who will present you with a welcome pack including all necessary documentation and arrange your transfer to the Trident Hotel for check-in. No activity is scheduled today since most of the International flights arrive in India close to midnight only. Trident: Located on Willingdon Island, Trident, Cochin is twenty minutes from the business district and within easy distance of Fort Cochin, a well-known tourist attraction. The hotel offers contemporary facilities in a relaxed and serene ambiance to both business and leisure travelers. The hotel boasts of well-appointed rooms built around a picturesque central courtyard with a swimming pool and a beautifully landscaped garden. Overnight in Cochin.

Day 2

Cochin - Kumarakom (85 kms/02 hrs.)

This morning you are collected from your hotel for half day sightseeing tour of Cochin. This tour includes a visit to Fort Cochin - a home to a unique community of Eurasians, commonly known as "Anglo-Indians". The architecture of the quiet streets in this enclave is very definitely, European with fine houses built by wealthy British traders, and Dutch cottages with split farmhouse doors. Mattancherry Palace - Locally known as the Dutch Palace, the two-story building was actually erected by the Portuguese, as a gift to the Cochin Raja. St. Francis Church - this Protestant church was originally built by the Portuguese in 1510 A.D. It is considered to be India's oldest European church. Today it is governed by the Church of South India (CSI). Vasco Da Gama was buried here before his remains were taken back to Portugal 14 years later. Jewish synagogue - dates from 1568 and is adorned with fine glass lamps and floor tiles. Bolghatty Island - This is a beautiful island lying close to Ernakulam. Built by the Dutch in 1774, Bolghatty Palace, the home of the former British Resident of Kochi is situated here. At the end of your tour visit the harbor near Vasco da Gama Square, where you can watch fishermen hoisting their catch from the cantilevered Chinese fishing nets that line the shore. Your sightseeing tour is followed by a drive to Kumarakom (85 kms/02 hrs.), the next stop on your South India tour. Kumarakom is set amidst the lush green Kerala backwaters and is on the banks of the Lake Vembanad. Kumarakom Bird Sanctuary: The Kumarakom Bird Sanctuary is located on the banks of the Vembanad Lake 14 km from Kottayam in the south Indian state of Kerala. The bird sanctuary is spread across 14 acres of land area. It is a haven for the bird watchers. The avifauna of Kumarakom Bird Sanctuary includes the local birds like the Waterfowl, Cuckoo, Owl, Egret, Heron and the Duck. The migratory birds include the Siberian Cranes, Parrots, Teal, Larks, Flycatchers, and Wood Beetle. Also seen are colorful Kingfishers, Herons, and woodpeckers. The best time to visit the Kumarakom Bird Sanctuary is from June to August. Migratory birds flock from November to February. A Houseboat / motorboat cruise along the Vemband lake is the most popular way to experience the sanctuary. Another option to spot the bird species of the park is to set out on foot on the 1½ km long walking track. Upon arrival check-in to the Coconut Lagoon hotel. Rest of the day at leisure to enjoy nature's beauty on your own. Coconut Lagoon: Hidden among the palm trees on the Eastern Shore of Lake Vembanad, Kerala's famous backwaters, Coconut Lagoon is one of Southern India's most discreet holiday destinations, an exclusive haven with a unique cultural heritage. The resort can only be reached by boat and offers a fascinating insight into the past. Guests stay in genuine 'tharawad' cottages - traditional wooden family houses. In danger of being destroyed, each one has been brought here from different parts of Kerala and carefully reassembled to include every modern luxury. Coconut Lagoon's cottages feature ultramodern bathrooms, each located in an inner courtyard boasting its own banana tree. It's a stunning combination- conservation mixed with comfort, tradition with tranquility. The Coconut Lagoon Resort has been designed to give visitors an authentic insight into Kuttanad life. The hotel offers excellent facilities like Indian, continental and seafood specialty restaurant, coffee shop, bar, Ayurvedic massage, yoga and meditation, country boat expeditions, visit to bird sanctuary, 'Rice boat' cruises, fishing, swimming, Ayurvedic center, swimming pool, health club, fishing expeditions. The restaurant at Coconut Lagoon is renowned as much for its superb Kerala cuisine (vegetarian and non- vegetarian alike) as for its authentic setting and is housed in one of the resort's most impressive tharawads. Overnight in Kumarakom.

Day 3

Kumarakom - Periyar (200 kms/04 hrs).

This morning you are collected from your hotel for boat ride on Vemband Lake for bird watching. Later drive to Periyar (200 kms/04 hrs). Periyar: Periyar in the Southernmost state of Kerala, is one of the sixteen Project Tiger reserves in India, and one of the most picturesque and beautiful wildlife sanctuaries in the world. With its waterways, forests, and grasslands, it provides a magnificent venue for both mammal and bird watching. Despite the destruction of much of the lowland forest within the Reserve as a result of the construction of a dam across the Periyar River in 1895, its 777 square kilometres provide a haven for a wide range of mammals, including Tiger, Elephant, Gaur, Sloth bear, Leopard, Dhole, and Nilgiri Langur. The Reserve also has a rich and varied bird fauna and we will be hoping to see several of the species found only in southern India and Sri Lanka, such as Grey Junglefowl, Malabar Grey Hornbill, Malabar Parakeet, White-cheeked Barbet, Crimson fronted Barbet, Black-headed Cuckoo-Shrike, Heart-Spotted Woodpecker, Rufous Babbler, White-bellied Blue Flycatcher, Rufous-tailed Flycatcher, Ruby-throated Bulbul, and White-bellied Treepie. Game viewing in Periyar is done on Boats. The boat journeys on the Lake Periyar, provide unrivaled opportunities for observing mammals, particularly elephants, at close range, and are the highlight of any tour to Periyar. Other mammals in abundance in Periyar include Sambar, Nilgiri Langur, Malabar Giant Squirrel, Three-striped Palm Squirrel, and Bonnet Macaque. Tiger sightings are relatively rare in Periyar since game viewing is by boat and the big cats have sufficient cover to hide. Another interesting activity, that is possible on your tour to Periyar, is a guided Jungle trek that is possible even late at night. Upon arrival check-in to the Spice Village. Late in the evening, you are collected from your hotel for Jungle walk at Periyar Sanctuary. Spice Village: The resort built on the periphery of a 777 sq. km. Wildlife Sanctuary called Periyar, home to wild elephant, boar, deer, bear, the great Indian tiger and more. Set in the heart of the Cardamom Hills of Kerala, Spice Village is an unprecedented tourist destination, offering a rare opportunity to view and experience South India's wildlife and beauty. Spice Village is in Kumily, a small settlement three kilometers from Thekkady, the main entrance to the Periyar Tiger Reserve and a 10-minute drive from the gigantic man-made Periyar Lake. The design of each cottage was inspired by the native tribesmen of Periyar, the Oorali and Mannan, who lived in similar dwellings. (In fact, one of the cottages currently being used as an office is an original tribal hut, which has been modified.) A number of creature comforts have been added, however, to make your stay a luxurious one. Cottages with thatched roofs blend well with the surrounding greenery of the pepper vines. At the center of the village is a swimming pool, surrounded by tropical trees and lawns. The community hut houses a well-stocked bar and a unique restaurant that overlooks the pool. Spice Village has an exclusive Ayurvedic clinic, well equipped for treatments like Pizhichil, Njavarakizhy, Dhara and other natural therapies. At the Spice Village there's no lack of options on how you can get the best out of your holiday. Boat safaris, Jungle treks, Plantation visits… the possibilities are endless. Overnight in Periyar.

Day 4

In Periyar

This morning you are collected from your hotel for Boat ride on Periyar Lake. All tourist activity is concentrated around the splendid artificial Periyar lake, an incredible way to experience the sanctuary. There are an estimated 700 elephants roaming these forests. Most of the population is generally concentrated on the banks of the Periyar Lake and come to the lake to frolic in the water. Late in the afternoon visit a nearby Spice Plantation. The area is famous for Cardomom, Coffee and Tea plantations. Evening at leisure. Overnight in Periyar.

Day 5

Periyar - Cochin (200 kms/04 hrs) - Bangalore - Mysore (140 kms/03 hrs).

This morning you drive to Cochin airport (200 kms/04 hrs) in time to board the flight to Bangalore. Upon arrival at Bangalore airport, you will be met and driven to Mysore (140 kms/03 hrs). Mysore: The city is a legacy of the famous warrior king Tipu Sultan, known for his victories over the Imperial British Armies. The city is also known for its silk processing and is a major center for nurturing silkworms. Mysore "City of Palaces" is in the hill country of southwestern India, this region is cooler than the coastal cities - one of the reasons so many maharajahs chose to live here and given 17 palaces to this city. It still retains its old charm and many buildings are adorned with domes, turrets and impressive archways. Also, known as "Sandalwood City", it is a major center for the manufacture of incense. Hence, Mysore is more than palaces, parks, and temples … traditional carvings on fragrant sandalwood … the rustle of rich silks … mouthwatering Mysore Pak, a traditional sweetmeat … It is a gourmet's delight and a Shopper's paradise. Upon arrival check-in to the Windflower Spa & Resort. Overnight in Mysore.

Day 6

Mysore - Nagarhole (80 kms/02 hrs)

This morning you are collected from your hotel for half day sightseeing tour of Mysore. This tour includes a visit to The Mysore Palace - Built in 1912 in the Indo Saracenic style, former residence of the Wodeyars, this structure is one of the largest of its kind in India. The Jaganmohan Palace - this is a converted art gallery that houses paintings that date back to the late 19th century. Chamundi Hill - Perched atop a hill is the 12th-century temple of Chamundershwari. The gigantic 4.8 meter tall monolith of Nandi the sacred vehicle of Lord Shiva is a marvel to watch. Also close to the temple stands a gigantic statue of the demon Mahishasura. St. Philomena's Church - This beautiful Cathedral was built in 1956 and is one of the largest churches in the country. It has been built in the Gothic style with beautiful stain glass windows and lofty towers. Brindavan Gardens - Adjacent to the dam is the beautiful Brindavan Garden. With lighting and musical fountains, this place transforms it self into a fairy land in the evenings. Your sightseeing tour is followed by a drive to Nagarhole (80 kms/02 hrs). Nagarhole/Kabini: The Nagarahole National Park, 644 sq km in size, is situated in the southern Indian state of Karnataka. It encompasses the area where the Western Ghats integrate with the Deccan Plateau. It is flanked by the Bandipur National Park to the south-east and the Wayanad Wildlife Sanctuary to the south-west. Together with these parks, it forms part of the larger Nilgiri Biosphere Reserve, which has a total area of 5500 sq km. Nagarahole has an elevation between 700 m and 960 m with the Masal Betta peak being the highest point and the Kabini River being the lowest. The Brahmagiri hill range provides a backdrop to the park and the park has gently undulating terrain crisscrossed by many rivers and streams. The Kabini River is the major river draining the park with the Nagarahole River lending its name to the park. Nagarahole was accorded the status of a National Park in 1983. The Nagarahole ecosystem supports the highest density of herbivores anywhere in south-east Asia. Large herbivores in Nagarahole are Muntjak, Chital, Sambar, Four-horned Antelope, Gaur, Wild pig, Asian Elephant, Common Langur, and the Bonnet Macaque. The density of herbivores in Nagarhole rivals that of the Masai Mara in Africa when taken on a per sq kilometer basis. Because the availability of prey is not a limiting resource in Nagarahole, selective predation has facilitated large carnivore co-existence in the park and the predominant large predators here are Tigers, Leopards, and Wild Dogs. The principal reasons for large carnivore coexistence in Nagarahole vis-à-vis the African Savanna are environmental factors such as adequate availability of appropriate sized prey, dense cover and tree density which is absent in the African Savanna and the fact that behavioral factors such as habitat specificity, choice of hunting sites or inter-specific dominance play a relatively minor role in Nagarahole. It is this large presence of Mammals, coupled with a varied and extremely scenic landscape comprising hills, rivers and water beds that make Nagarhole and Kabini a must-do for serious wildlife enthusiasts. Upon arrival check-in to The Serai Kabini. The Serai Kabini: The Serai is strategically located on the banks of the magnificent Kabini River and serves as a wonderful gallery for viewing wildlife. Inspired by a vision of operating world-class wildlife resorts near key wildlife sanctuaries in India, The Serai offers tastefully-decorated rooms with all the modern amenities. Each room looks out into the expansive river and is appointed with every little indulgence you would normally expect on a premium vacation. Other facilities at The Serai include a swimming pool, an activity/information centre, a restaurant serving vegetarian and non-vegetarian buffets, a gym, a small Spa and a well-stocked bar. Overnight in Kabini.

Day 7

In Nagarhole

Early morning & evening game safaris in Nagarhole National Park. Safaris in Nagarhole are organized in jeeps as well as boats. Local guides and naturalists are at hand to enhance the experience. Overnight in Kabini.

Day 8

In Nagarhole

Early morning & evening game safaris in Nagarhole National Park. Safaris in Nagarhole are organized in jeeps, boat. Local guides and naturalists are at hand to enhance the experience. Overnight in Kabini.

Day 9

Nagarhole - Bangalore Depart

Morning game safari at Nagarhole National Park. Check out of your hotel at noon and leisurely drive to Bangalore airport (230 kms/05 hrs) in time to board the flight home.
Price
Start from: USD 1846 Per Person
Domestic airfare: USD 130 Per Person
---
Accommodation
| Cities | Accommodations |
| --- | --- |
| | |
| | |
| | |
| | Windflower Resort and Spa |
| | |
Important Information
Small supplements may apply for travel between 20th December' and 10th January' and during the month of February' .
All the figures quoted above are net per person in US Dollars.
The tour package inclusions and exclusions at a glance
Whats included in this tour
Items that are covered in the cost of tour price.
Accommodation on twin sharing bed and breakfast basis (except in Nagarhole, where all meals are included), at the mentioned hotels.
All arrival-departure transfers and land transportation using an aircon car exactly as per the itinerary.
Sightseeing tours / game rides along with an English Speaking Guide / naturalist and including entrance fee to monuments / parks exactly as mentioned in the Itinerary.