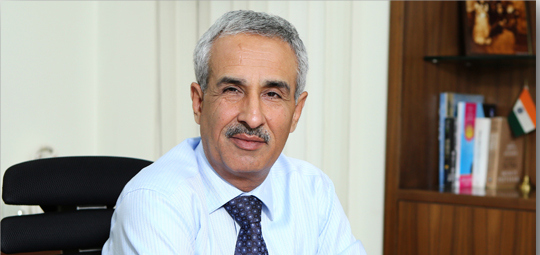 Kapil Goswamy
Managing Director
India-Safaris.com is an internet trading brand of Trans India Holidays. We are a privately owned registered limited liability company headquartered in New Delhi, India with offices in New Delhi, Bangalore, Kolkata and Hyderabad. We are a specialist India and Nepal tour operator with a brick and mortar Travel Company as well as a major presence on the internet. Our website allows tiger safari, elephant safari, tourists in India to find out all about the wildlife destinations in India and Nepal, choose a tour of your choice or contact our Vacation Consultants who will tailor-make your vacations. Through us, travellers have access to a wealth of experience and local knowledge and a wide range of tour product at best possible prices.

Our website provides information on Tiger safaris in India and Nepal, Elephant Safaris in India and Nepal and information about all the wildlife destinations in India and Nepal. Our website allows you to choose a Safari of your choice or contact our specialists Safari Consultants who will tailor-make your Safari. Through us, travellers have access to a wealth of experience and local knowledge and a wide range of tour product at best possible prices.
The Team
Our team has been selected for their depth of experience and product knowledge. We take great pride in what we do. Each person in every department endeavors to live up to our promise to customers, ensuring that booking and planning a holiday through us is an enjoyable and trouble-free process.
Accreditations
Trans India Holidays (our parent Company) has the necessary accreditations and affiliations to offer you peace of mind when arranging and undertaking your trip in the Indian Subcontinent. We are members of - AFTA (Australian Federation of Travel Agents), ASTA(American Society of Travel Agents), IATA (International Air Transport Association), TAAI (Travel Agents Association of India), IATO (Indian Association of Tour Operators) , TAFI (Travel Agents Federation of India), and TOFT (Tour Operators for Tigers).
We can give you plenty of good reasons to choose us for your India travel plans. Tailor-made Tour Packages and Safaris to suit your needs, competitive prices, reliability, convenience, peace of mind, quality product and professional service are just some of the things you can expect from us. See 10 great reasons below.
The Travel Experts
All of our Vacation Consultants have experience and knowledge of wildlife and cultural destinations in India and Nepal. Extensive specialized training and continual updates on new products and services mean that they are experts in their fields and can provide all you need to know about your chosen destinations. All hotels and lodges used by us have been personally inspected by a senior member of our team.
Tailor-made Tour Packages
We specialize in fully customized tour packages and Safaris developed to suit your interests and needs. We can arrange your accommodation, transfers, Jungle Safaris, tours, flights and car hire based on your requirements. Enquire now to receive personalized service.
Competitive Prices
We offer extremely competitive prices for hotels, lodges and tour packages -- thanks to our extensive network of own offices and carefully chosen associates in most major destinations in the Indian subcontinent, our own fleet of luxury automobiles and excellent relationship with hotels and domestic airlines.
Customer Focus & Quality Services
We are completely customer-driven. We feel a sense of urgency on all matters related to our customers and strive to serve them with integrity and professionalism. We take ownership of problems and we are always responsive.
Reliability
We only deal with credible and reputable service providers. This way we ensure that you receive only the highest quality products and services.
Convenience
We are open for consultation 6 days a week, Monday through Saturday, and contactable 24 X 7 for emergency assistance and support. You can submit your enquiries online, contact us by phone or visit us at our website.
No Credit Card Surcharges
We do not levy any surcharges for Credit Card Payments for any of our Tour Packages. Also, for your security, all our online payments are taken via a Secure Payment Gateway.
Savings
Our tours, safaris and vacation packages offer many benefits in terms of savings. We contract rates in bulk for hotel accommodations, transportation and other services. We also add value through our expertise, knowledge and hence have the ability to offer our clients exceptional product at competitive pricing.
Our Principles
Our core values and principles include conducting all our business operations with honesty, transparency and integrity. We strive to create dream wildlife vacations for those who want to explore India and Nepal.
Keeping in mind the security and privacy of all our customers, www.india-safaris.com uses the most sophisticated Secure Sockets Layer (SSL) technology while accepting payments. Once all the arrangements are confirmed and your itinerary is finalized, we will E-mail you our invoice with appropriate secure links for online Credit Card payments.

Encrypted information received by www.india-safaris.com is shared with the travel providers (airlines, hotels, car rentals, agencies etc.) only to the extent deemed to be absolutely necessary to complete your reservation (for example : while a credit card number is required by us to confirm your hotel bookings, the card details are not shared with the hotels themselves).

If you have additional questions or concerns regarding security on www.india-safaris.com , please e-mail us at info@india-safaris.com and we will respond within a few hours.
Booking Terms and Conditions
The Terms and Conditions below form the basis of the contractual relationship between www.india-safaris.com and its clients. It is extremely important that our clients understand and accept these Terms and Conditions.
Payment
A deposit of 20% of the total invoice is required at the time of acceptance of our quote (unless specified otherwise in certain cases) to proceed with the reservations and send you a status report. Your Safari Consultant will advise you when your final payment is due, generally no later than 30 days prior to start of your safari / tour.

Advance payments can be made either by Visa, Master Card or American Express Credit /Charge cards via our Secure Server or via Telegraphic Transfer to our Bank account (details of which will be provided upon knowing your choice to pay by Telegraphic Transfer) or via Cashier cheques.
Amendment
We do not encourage changes in the confirmed arrangements. But if you do need to make amendments in the arrangements already confirmed, we will do all possible to accommodate the changes, depending on the availability of your new requirements. However, the changes will be subject to amendment / administration charges.
Cancellation
We would deeply regret your decision to cancel your trip to India, however, we realize that there are few circumstances under which you may be forced to cancel. Cancellation must be notified in writing and will take effect the day it is received by www.india-safaris.com . The following penalties will apply:-

Cancellation more than 30 days prior to your travel - 20% of total tour cost (unless specified differently in your tour / safari confirmation)

Cancellation less than 30 days prior to your travel - 50% of total tour cost (unless specified differently in your tour / safari confirmation)
Check-in/Check-out time
The standard check-in/check-out time at the hotels here in India is 1200 hrs (noon). For early morning arrivals and late evening departures, we can only put in a request, but the same can't be guaranteed. For a guaranteed early check in / late check-out, we need to book an extra night. Please specify while giving us the flights details etc.
Passports and Visas
You are required to ensure that your passport and travel documentation are in order and that you have obtained the necessary visas for your journey. All Foreign Nationals travelling to India require a Visa, and we strongly urge you to obtain one from the nearest Indian High Commission / Indian Embassy or avail e-Visa (electronic) well in advance. Visas on arrival are ONLY available for the Nationals of Japan and South Korea. Visas for Nepal, however, are available on arrival. Should you require assistance on this matter, we will be pleased to make recommendations.
International and Domestic Air Bookings
Reconfirmation of International flight bookings is the responsibility of the traveler. As tour arrangements may be booked to connect with International and Domestic flights, it is your responsibility to keep us updated as to your flight times and numbers.
Travel Insurance
While it is not mandatory, we strongly recommend that you are adequately insured for the full duration of the tour in respect of illness, injury, death, loss of baggage and personal items, cancellation and curtailment. The choice of insurer is the sole discretion of the client.
Amendments to Confirmed Arrangements/Prices
www.india-safaris.com offers its clients customized packages of land and / or air services using various suppliers. The price of your travel arrangements is subject to change or be surcharged, because of reasons beyond our control such as Exchange rate fluctuations, sudden increases in Govt taxes.

While www.india-safaris.com will make every effort to provide all tours exactly as confirmed, reasonable changes in the itinerary may be made without notice, if deemed necessary or advisable by our experienced staff.
Complaints and Claims
In the unlikely event that you are dissatisfied with any service www.india-safaris.com has provided, please notify our local representative or us at the earliest, to avoid the potential of similar problems happening again during your trip.

In the event of a complaint or claim for compensation, you must inform us by email or regular mail within 15 days from the end of your tour. Relevant receipts and substantiating evidence must be attached to the letter of claim. www.india-safaris.com will not be liable for any claims made later than 15 days after the completion of your tour.
Communications
You can contact www.india-safaris.com via the web or via email or phone. If for any reason, you fail to receive any reply from www.india-safaris.com in regard of your tour status within 48 hours from the time you submitted the request for booking, modifying, or canceling a tour, please contact www.india-safaris.com customer service at 24 hour phone no 91 - 98 110 20724 ( Mr Rajesh Kaushik) immediately to ensure that we are able to deal with your enquiry promptly.
Responsibility
www.india-safaris.com shall not be liable for any loss, injury or damage to person or property caused by climatic conditions, fire, breakdown of machinery or equipment, acts of government or other authorities, wars whether or not declared, civil disturbances, strikes, riots, thefts, epidemics, quarantines, medical or customs regulations, terrorist activities, or any other actions, omissions or conditions beyond www.india-safaris.com's control. Neither www.india-safaris.com nor any of its affiliates or subsidiaries shall be or become liable or responsible for any additional expenses of liability sustained or incurred by the tour member as a result of any of the aforementioned causes.