The Serai Kabini
---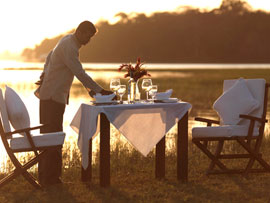 The Serai is strategically located on the banks of the magnificent Kabini River and serves as a wonderful getaway for viewing wildlife. The resort lies in a village called Karapura, 220 kms away from Bangalore close to the entry gate of Nagarhole National Park. The resort surroundings are lush forests-a mix of tropical moist and dry deciduous that support flora, 300 species of fauna, elephants, tigers and more. Also nearby are the backwaters of the Kabini reservoir witness the largest and most spectacular congregations of Asiatic Elephants during peak summers. Stay at the luxury resort and feel one with nature.
Hotel address and contact details
No – 60/1, Nishana, Karapura Taluk Antarasante,
Uttarahalli Hobli,
Heggadadevankote,
Karnataka - 571 114


Accommodation
Options of accommodation in The Serai include the waterfront verandah, Waterfront villa and the residence. Each lodging is furnished with modern amenities yet retaining the abundance of nature's blessings.
Facilities and Services
Swimming pool, restaurant, bar, gym, conference hall, gift shop, spa, jungle safari, nature walks, bird watching, boat rides, etc.