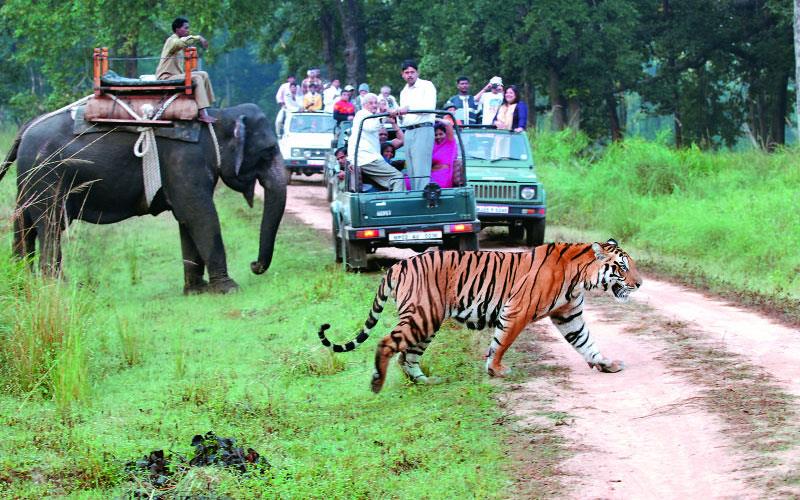 The Best Wildlife Safari Season in India
India is home to fabulous wildlife. From roaring Royal Bengal Tigers to Asiatic Lions, herds of mighty Asian Elephants to one-horned rhinoceros, deer, gaur, flocks of birds' even ones visiting from distant lands, India is blessed with wildlife. Besides coming close to the wilderness, wildlife holidays in India includes stay at jungle resorts, jeep safaris, elephant rides, nature walk with experts and other incredible experiences. India's wildlife safari season is traditionally between the months from October to June, with the exception of monsoon season when most of the wildlife sanctuaries and national parks remain closed. Even in the wildlife safari season, there is a best time for the thrilling adventure.
When making plans for a wildlife holiday in India, here is to understand the best time and suitable weather conditions.
Tiger watching between November and February, the mornings can be very cold, so bring hats and gloves. A hot water bottle even. Although be prepared to take off layers later in the day, when temperatures go up to the mid twenties.
The opposite is the case if you go in search of tigers between March and June, when the temperatures can hit mid 40s centigrade. You need to be veary well prepared, and know that you can stand such heat for long periods of the day.
Most national parks in India close July, August, September and through until about mid October for monsoon season, so always check with your tour operator.
Periyar National Park, however, stays open all year round. The most popular time to visit is during the cooler, drier months from October to February. It is particularly vibrant just after monsoon, and there are fewer people. Periyar is always packed at weekends, however, so try and stick to weekdays.
The best time for viewing elephants in Kerala is during the hotter months of March and April, when they spend the most time in the water.
The only time to see snow leopard in Ladakh is between November and March, when they come down from the snow covered peaks in search of food. February and March are a bit more accessible for visitors though, so best to travel during those times.
In Gujarat, Gir National Park is closed mid-June to mid-October for monsoon season. November until March are more bearable climate wise, but for top animal watching April and May are best – but boiling. However, witnessing the Rann of Kutch Desert fill up during monsoon season is a sight to behold too.
National parks can pack out during Indian public holidays and festivals, and there are many of them. So do check in advance if you are going to clash with one. Which would be fun, but it will be busy. The big ones include 26th January for Republic Day, and Diwali which falls October or November.
In many of the parks, the vegetation is high after the monsoon around mid-October, which means that wildlife can be harder to spot. However, the landscapes look stunning during this time.
For bird watching in Northern India, October to May is a good time for resident and migratory species, post and pre monsoons. In Kerala, March to May is blazing hot.