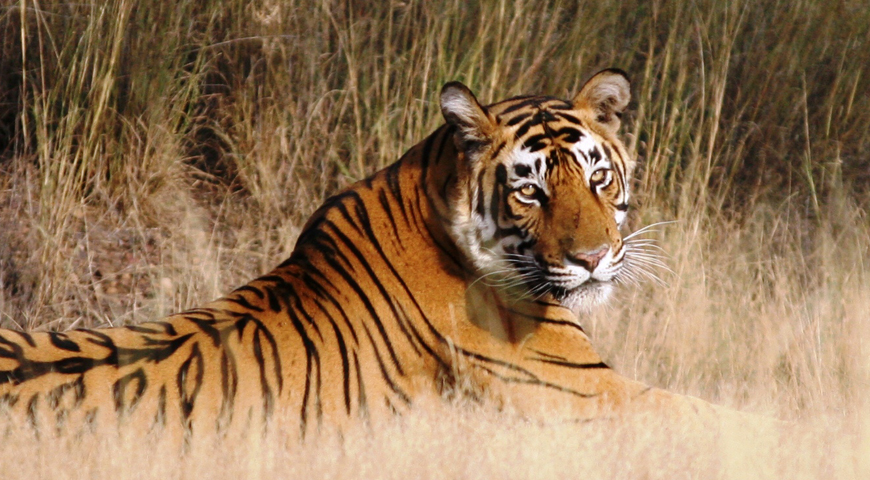 Justice or Injustice with Ranthambore's T-24 a.k.a Ustad
A popular Tiger of Ranthambore National Park, T-24 known as Ustad has been alleged of killing a forest guard, Rampal Saini as his body was found dead in T-24's territory. Taking this into consideration, Ustad was put out and shifted to a new place which is nothing more than a mere Zoo in Udaipur by the forest officials. It is said that the officials had no evidence against Ustad regarding the incident. At the same time they were very worried about the presence of the tiger in the park as it would bring down the number count of tourists visiting Ranthambore National Park every day. This quick decision of shifting T-24 to the captivity in Udaipur came as a shock to many wildlife enthusiasts.
Why Ustad (T-24) is considered culprit?
Ustad was accused of killing Rampal Saini, a security guard in the park. It was also stated that few years back T-24 attacked 4-5 people, who risked venturing into his territory. Taking into consideration all these facts the forest officials declared T-24 a man-eater and culprit, though they did not have any firsthand information about the incident. Without discussing the accident any further they decided to shift him out of the national park to a zoo in Udaipur.
Why wildlife enthusiasts are against this decision?
Wildlife enthusiasts were very upset with the sudden decision of the forest officials regarding shifting T-24 from the national park to captivity in Udaipur. The decision to transfer Ustad to the zoo was made without any probe or investigation. According to a study most of the wildlife experts stated that a carnivore has a natural tendency of fearing humans, whereas when Ustad was in the national park he was very bold in front of humans. There were many instances that proved Ustad to be a culprit but the experts also placed many such instances where they proved T-24 to be completely innocent. Despite arranging a lot of campaigns and gatherings Ustad was shifted to an unexpected place and this was the reason many wildlife lovers were disappointed about.
Who is responsible for Human – Animal conflict?
Conflict between Human-Animal is a serious problem in many parts of the world. It is seen that man and animal are coming into conflict over living, food and space in today's world. These impacts are often huge. The destruction happens on both ends, either the humans suffer or the threatened or endangered animals are targeted in retaliation. It has become very difficult to get a solution to this problem as the human population is growing day by day. Man and animal conflict weakens not only the law and order of the area but also the conservation prospects of India's endangered mammals such as the tiger. Therefore, human and animal conflict is a major threat to the continued survival of wild animals.
Should Ustad be brought back to his own habitat?
Wildlife enthusiasts and activists have started campaigns to transfer T-24 back to the wildlife reserve where he grew up. Wildlife experts were very dissatisfied with the decision that forest official's took after the incident. According to the experts there is no evidence of Ustad being accountable for the death of the guard and those who were attacked few years back.

Few wildlife experts also stated that even if T-24 was guilty of doing such a thing, he should have been moved to a less visited parts of the national park. There have been many cases in other national parks where the tigers were blamed for this kind of incidences. The officials shift and change the territory of those tigers inside the wildlife reserves rather than shifting them out of the national park itself. Shiffting T-24 was not the only option of solving the problem.

The question is whether T-24 should be shifted to a less visited part of the national park or should he be left there in the zoo for the rest of his life.