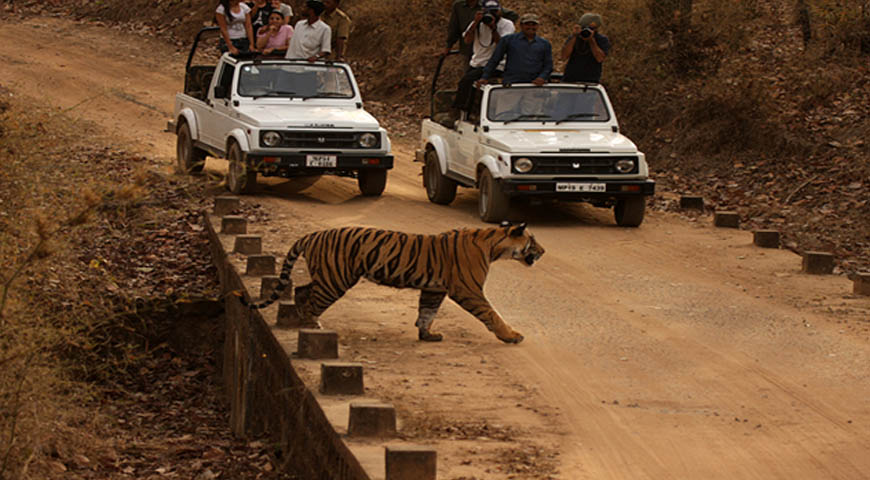 India National Parks Opening Dates –Explore Best Wildlife Hotspots
Wildlife Calling!!! Yes, you heard it right. There is a piece of GOOD NEWS for the wildlife enthusiasts and nature lovers that will certainly delight them. The national parks that were locked because of the monsoon season are opening from October 2014. This means you can plan an unforgettable tour and get up, close and personal with the diverse species of wildlife and marvel awe-inspiring beauty of nature. So, if you are scouting for some excitement and pleasure or have gone bored from visiting beaches, forts, palaces, hill stations or deserts, then visiting these prominent national parks would be a great option to make your vacations memorable.
Bandhavgarh National Park – Where Tigers are Pride of the Jungle
The park delights the people with its serene environment and exotic varieties of flora and fauna. However, Bandhavgarh is MUCH MORE. It boasts of highest density of tiger population in India and also popular as the 'Land of White Tigers'. Yes, the national park is a place where you can get a wonderful chance to spot the rare white tigers in their natural surroundings. All in all, if you are seeking the place to get rid from the chaotic city life, then Bandhavgarh is an excellent place for you.
Ranthambore National Park – Experience the Magnificence of Wildlife
Ranthambore is one of the best national parks in India, famous for its natural surroundings and magnificent wildlife. The verdant landscapes and dense forest make it a majestic place to explore. The majestic Ranthambore Fort located on a hilltop is a place not to be missed. The jeep and canter safari ride offer a lot of joy and provides a great chance to click pictures of animals from close quarters.
Corbett National Park – Feel the Call of Wilderness
It is one of the oldest national parks of India from where 'Project Tiger' was started to conserve the tigers. It is a magnificent place for the adventure and thrill seekers. There are 4 zones in the park that include diverse flora and fauna. Jeep, elephant and canter safari tenders a joy ride that makes your vacations special.
Gir National Park – Home of the Asiatic Lions
The park is renowned worldwide for the healthy population of Asiatic Lions (around 400). Gir is spread over an area of about 1412 sq. km and contains dry deciduous forests. Jeep safari is one of the best ways to explore the park. During your safari, you can come across the Maldhari tribesmen, who have been living there for ages and get an insight about their history ad culture.
Kanha National Park – Jewel of Madhya Pradesh
It is one of the biggest national parks of Madhya Pradesh. Kanha was declared a national park in the year 1955. Undulating hills, steep cliffs and verdant landscapes present an enchanting setting to marvel at the beautiful animals roaming freely. Bamni Dadar is a popular attraction of the park where the tourists can get a great chance to see the beautiful sunset.
Now that you have pretty good information about the opening dates of the national parks, make sure, you include a visit to these parks in your itinerary and relish the best travel experience of your life.